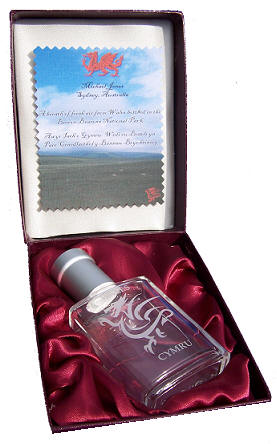 Many people who leave Wales feel that they have left something behind, now walesinabottle.com offers a unique gift that could fill this missing piece of the jigsaw. Everyone's memory of Wales may be different. You may have been brought up in North or South, Mid or West Wales. Coast, Countryside or City. Whatever your memory, if it fits in a bottle we'll send it to you. Slate, Stone, Sand and Water are just a few ideas which will remind you of your birthplace, school, farm or the place you were brought up.
If you just wish to be reminded of Wales, may we recommend our quality presentation of air which has been bottled for you in Snowdonia and the Brecon Beacons. Your breath of fresh air from Wales comes to you in a stylish presentation box and is accompanied with a personal certificate. To see an example of the certificate please click here.
Whatever your request, from the ordinary to the bizarre we will quote for your personalised product.
The Product to the left is just £20.00 inc. world wide delivery